Eliminate chronic pain in the most effective way using hypnosis



What's the definition of insanity? Doing the same thing and expecting a different result!
Stop the insanity – It's time to try something different. Use Hypnotherapy for Chronic Pain Relief.
Hypnosis has a long (yet little known) history of controlling pain. And is one of the most recognized drug-free pain management techniques.
In the past – Doctors used hypnotism for pain relief during surgeries back in the early 1800s. This was before the development of chemical anesthesia. The military field hospitals used hypnosis to perform surgery, amputations, control pain and bleeding.
Today – Hypnotherapists use hypnosis to reduce or remove your chronic pain.
This shows you how powerful the human mind is when you utilize hypnosis!
Can hypnotherapy help relieve your pain?
If you are struggling to live a normal life because you have been burdened with chronic pain. Sucking all the life and joy out of you. And you have tried your best to manage the pain. You do all the right things to relieve the discomfort. Yet nothing works. Mainstream traditional therapies have failed you. And over the counter and prescription medications are not effective enough.
Then hypnotherapy will help when everything else has failed.
To qualify for my help you must:
have been diagnosed and treated by a medical professional
have been prescribed or suggested pain relief
have been in pain for more than 3 months
want help to reduce or remove your chronic pain
If you answered yes to all of the above – then the answer is YES. Hypnotherapy can help you.
I can vouch for the effectiveness of hypnotherapy for pain relief. Because…..
I have walked in your shoes
I've lived a life of chronic pain for over 20 years. And have come out the other side. Thanks to hypnotherapy.
Looking back at my past, it feels like pain has been a constant companion of mine. Starting way back in my early teens. That's when my chronic headaches started. Then as I continued through life, I collected more and more aches and pains. In my early 20's, the migraines began. Then mid 20's my back went out. Then the migraines became more and more frequent, weekly, then almost daily. Then the lower back went completely out, where I couldn't walk. Which resulted in a trip to the hospital. I then ended up with chronic sciatica pain. I was a wreak.
So believe me when I say, I know how you feel. I've been there.
I know the pain is very real. And I know the toll it takes on your quality of life.
The missing piece to curing chronic pain
I searched far and wide for relief. Like I'm sure you are doing right now.
First starting with the obvious. Doctors, specialists, neurologists, chiropractors, physiotherapists, acupuncturists. With no long-term relief.
So I took matters into my own hands. And I researched and studied pain. I read everything I could on the subject.
What I found was, that all pain comes from the brain.
That doesn't mean that the pain is all in your head. The pain is very real.
What that means is, the pain signal comes from the brain.
And the pain signal happens for a very important reason – to protect you. The pain is a warning. The body is letting you know that something is wrong.
In most cases, when the source of the problem is found and treated, the pain signal turns off.
But in the case of chronic pain, something happens in the brain, which prevents the pain message from being switched off.
In these cases, the source of the problem is most likely emotional, rather than physical.
The Mind-Body Connection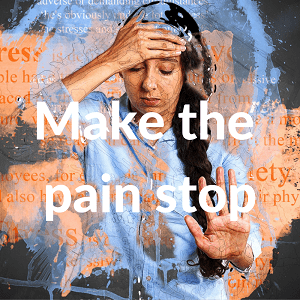 Let me explain why the cause of chronic pain is most likely emotional.
There are 2 types of pain, emotional and physical.
Sometimes we feel the pain in our body's. And sometimes we feel the pain in our hearts.
When the emotional pain is such that you can't cope with it, the pain manifests in your body as physical pain.
The pain can be interchangeable between the emotions and the body because of the mind-body connection.
An emotional exercise can trigger a physical response.
For example, have you ever:
· Gotten a headache after a long stressful day?
· Felt sick in your stomach after hearing bad news?
. Gone weak at the knees when you first fell in love?
. Felt your heart racing when you got startled or scared?
. Broken out in hives or a rash when you were stressed?
. Had tears flow from your eyes during a sad movie?
These are all examples of how your body responds automatically to emotions.
So, it's not unreasonable to suggest that your chronic pain could be because of your emotions.
My approach to treating chronic pain
An emotional exercise can cure a physical condition.
We must shift away from focusing on fixing the physical body. And start treating the underlying emotional pain.
I can help you to feel and express your emotions by teaching you how to understand and process them. Rather than bottling them up and allowing the suppressed emotions to manifest physically.
And when you learn how to release your emotions effectively, you reduce or remove the need for your body to express the pain physically.
All you need to do is accept and embrace the mind-body connection.
What you can expect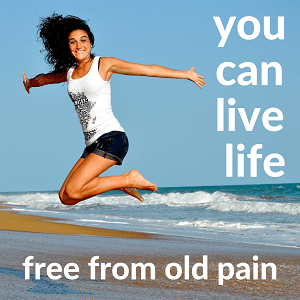 When you work with me, you can expect to begin to understand what your body and emotions are trying to tell you.
When you learn this secret language of the heart and the body, you empower yourself to release the pain.
It's time to throw out the old ways that didn't work, and apply this new way of thinking.
You can be free of chronic pain.
Dealing with your emotions is easier than living in chronic pain.
It is possible to live free from old pain, but you have to be willing to accept that the pain is not physical, it is emotional.
Chronic pain leaves the Medical profession scratching their heads
The number one indicator that you are suffering from a mind-body condition is –
Doctors can't actually find anything physically wrong with you.
So they are at a loss of how to treat you. They diagnose based on the symptoms. Then tell you that there is no known cure. You will have to live with it for the rest of your life. And the best they can offer you is a plan on how to manage your symptoms.
Common mind-body conditions are:
• Back pain
• Carpal tunnel syndrome
• CFS (chronic fatigue syndrome)
• CRPS (complex regional pain syndrome)
• Fibromyalgia
• Foot pain syndrome
• Heartburn, acid reflux
• IBS (irritable bowel syndrome)
• ME (myalgic encephalomyelitis)
• MPS (myofascial pain syndrome)
• Neck pain
• Nerve pain, numbness, tingling and burning sensations
• Piriformis syndrome
• RSI (repetitive stress injury)
• Sciatic pain
• Shoulder pain
• Tendonitis
• Tension & migraine headaches
• TMJ syndrome (temporomandibular joint)
A Drug-free method to relieving pain
Now that the government has made it harder to access stronger pain relief medications. Requiring you to get a prescription from your Doctor. This is a real pain in the arse (pardon my French) I mean, a real inconvenience.
This should motivate you, even more, to do something to permanently get rid of your chronic pain.
And up until now, you probably didn't even know that it was possible.
It is possible because I've done it. And I have helped others to do it as well.
And there are hundreds of thousands, perhaps even millions of people out there who have done it, using this mind-body approach.
There is so much evidence and support out there right now. It is a shame that the mainstream medical professions haven't come on board. Still treating people with methods that are not working.
If they did work, then you wouldn't be here right now, reading this!
What other people have experienced in the program
Here are just some reviews from past clients who have completed my Pain Relief Program:
"Following treatment from Anna, I feel the best I have felt in 4 years after suffering from chronic pain for the last 4 years. I know I must continue on my own now and Anna has given me skills to do this. I have achieved all of my goals, which as to improve my energy levels and quality of life, and can only improve from here, now that I have learnt what I need to do. My friends, family and colleagues have all noticed the difference in my life. Thank you Anna."
"I was a bit sceptical of hypnotherapy to begin with but thought I'd give it a go and now I'm so glad I did! Thanks to Anna's great work I now feel in less pain, less stress, more organised and motivated and feel more confident in myself and my ability to deal with uncomfortable situations and hurt from the past! Highly recommend Anna to anyone who feels like they are stuck in a rut."
"Overall it was very enjoyable. I came with an open mind, hoping to get help for my sciatica pain. I experienced personal growth through a very painful process but it was cleansing. It stripped away the pain I was carrying and allowed me to move on with my life without the emotional scars. Anna was the most caring, professional, giving everything possible to help me. She's lovely and special. I highly recommend her."
Are there any guarantees?
Hypnotherapy works but there is no guarantee.
Simply because hypnosis is not something that you have done to you.
I work 'with' you, not 'on' you.
What happens is – I help you to access that part of your brain which is responsible for the pain. So you can turn it off if it is safe to do so.
Take the next step
You have 2 options right now.
Option 1 – you are ready, right now, to do what it takes to live pain-free.
Great, then your next step is to schedule your free 20-minute telephone or online video consultation.
This is the best way to find out if hypnosis is right for you. You get to speak to me and get to know me before you decide what is best for you right now. This eliminates all the risk for you.
As I am in session most of the day, I may not be able to answer the phone, so to avoid phone tag, I recommend scheduling the consultation online here.
Simply click the button below to schedule your FREE 20-minute phone or online video consultation with me.
Option 2 – you're still not sure. You need more time to think about it before you take that next step. That's cool, no pressure, take all the time you need. To help you to decide, would you like to receive more information via email?
If you would like more information, send me a message from my contact page.
I'm happy to answer any questions you may have. Send me a message and I'll get in touch as soon as I can.
P.S. To determine if we're the right fit for each other, I offer a free 20 minute, one-on-one, private and confidential telephone or online video consultation with you. As well as answer any questions you may have.
I'm both grateful and honoured that you have considered me and hypnotherapy to help you with your chronic pain.
Remember to take advantage of your free consultation with me. I'm looking forward to hearing from you soon.